Zen Strawberries and Cream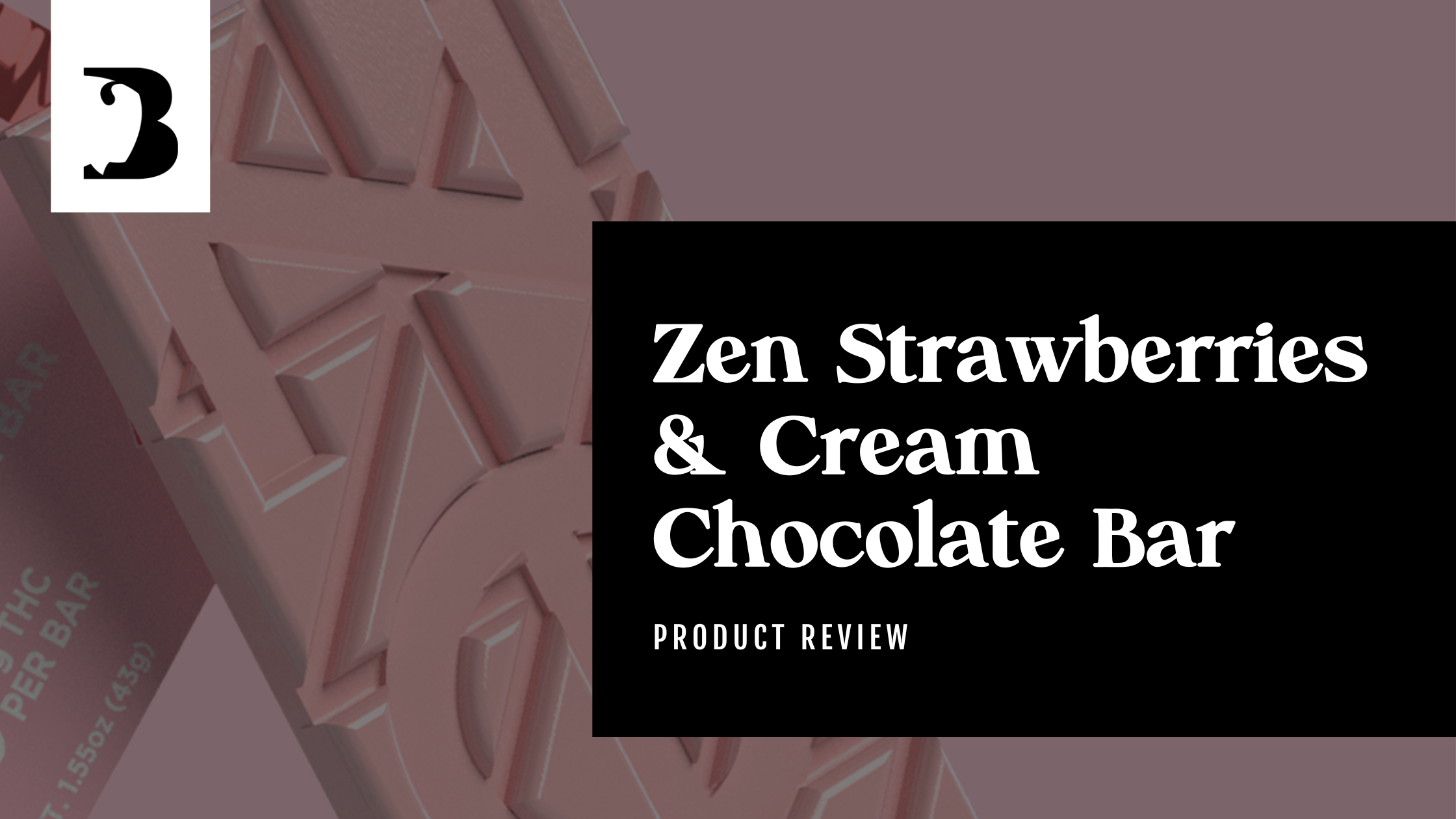 One of the most exciting experiences about walking into my favorite dispensary is seeing what new products have appeared. I let my eyes wander over each shelf, searching for something I haven't seen before. Often they flit to flower, but for this Encycloweedia Bricannabis we'll be sinking our teeth into the Zen Cannabis Strawberries and Cream 250 Mg Chocolate Bar. As a little lad who loves berries and cream, I couldn't wait to try the latest confect-Zen to hit Missouri. While there is also a 500 Mg version of the latest crea-Zen, I opted for the lower dose to THC what this new snack had to offer. I told myself I would eat it all at once on a day off, but couldn't resist breaking off a nib-ble when I got home. I've enrobed references and chocolate puns incisor review this week, along with a bit of teeth humor.
The nibble turned into 50 Mg, molar less. The taste was berry delicious, reminding me of a strawberry milkshake or Starburst's creme flavored candies. White chocolate melted in my mouth, the scrumptiously smooth consistency and sweet strawberry savor was so satisfactory I almost shed a chocolatier. There was no taste of distillate, only a rich fruity flavor enveloped my taste buds. Naturally, I had to break off a second square of the delectable confection. I was hosting card night and could feel the treat working its magic as we began gathering for the game. As we played cards choco-late into the night, I floated on a bed made of strawberry and marijuana. Though I was not the winnower of the game that night, I felt canna-bliss from the infused candy for several hours.
Several days later, Chews-day, I had the day off to eat the rest of the chocolate, and with 200 Mg to go, I happily chomped away. I like to eat more than three times a day, and second breakfast is one of my favorite hobbits. The creamy delight was a maw-velous snack after coffee and a breakfast of cereal, with a pa-late of almonds, cheddar, and cranberries. I spent the morning relaxing with my canine, it was my day off. However, I rarely spend a day without working on something, and found myself writing before lunchtime. My thoughts drifted from subject to subject, and progress was gumming along slowly. Fortunately, it was not conch time and I could temper with my writing for a few more days.
Both varieties of Zen Cannabis chocolate bars can snap into ten squares, or twenty triangles. Managing your dose of THC by keeping track of how many you eat is easy to do, but once you ganache on a tasty morsel, you'll want morsel stock up on some regular chocolate too! When it comes to flavor, I prefer the strawberries and cream to milk chocolate, but both varieties have been more Zen delicious.
Joking and Toking:
How does a gardener repair ripped clothing?
A strawberry patch!