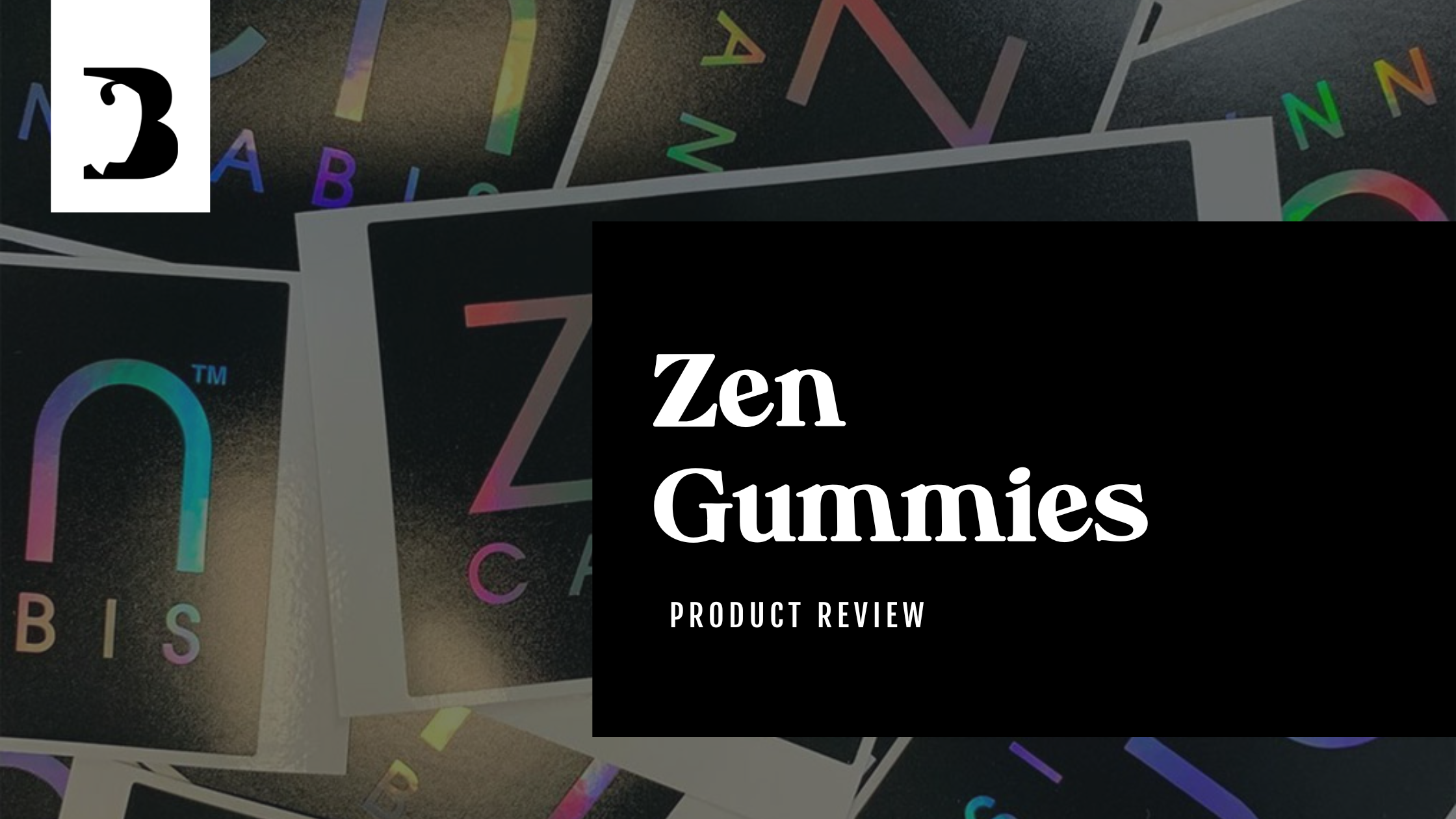 Edibles have come a long way in the past few decades, and Encycloweedia Bricannabis has some information for you to digest on Zen Cannabis' gummies. Be prepared to dill with a bunch of corny jokes as you join me on my journey through a gummy Zen garden. Growing up, weed always reefer to marijuana infused foods as "special" brownies or cookies, and throughout college my friends and I concocted infused pastas, pizzas, desserts, or even just slapped some canna-butter on a slice of toast. As wonderful as the treats were, we had no way to tell how potent peach treat was, and you can bet adventures that were truly bananas arose from not knowing our snack's potencies. Nowadays, each product is labeled with ingredients as well as cannabinoid concentration, and can easily divide into portions of equal dosage. The highest potency marijuana infused gummies I've seen in Missouri come from Zen Cannabis and contain 50 milligrams of THC each! I grabbed the five varieties to munch on over the weekend, planning out which gummies I'd take each day. The medley consisted of pineapple and watermelon hybrids, fruit punch in both indica and sativa, and a grape gummy with lower THC but high CBD content and just a hint of melatonin.
I started my journey into the cornucopia of flavors with the sativa fruit punch one morning over the weekend. While each gummy can easily be split into two 25 Mg doses, I ate the whole 50 Mg candies at once. I expected a bit of distillate flavor with such a potent gummy, but found that throughout the experience fruit was the only thing I could taste. As the candy dissolved I felt like I was sipping on fruit punch. Within an hour the results I desired came to fruition, and my body began to float as my mind awakened. Frui-out the day the floaty feeling stayed with me, but my mind was focused. I also felt blissful and at peas having lunch on my back porch, admiring the sound of birds chirping and a breeze rustling the trees.
As the day came to an end the effects of the first gummy began to rind down, I kept rolling with the punches and ate the indica gummy. I'm not sure at what point I fell asleep, but I did not make it very far into the film, and passed out on the floor with my dog, Boba. When I woke in the middle of the night and made the trek to bed, my body felt heavy and hit the mattress harder than last year's leftover fruitcake. Indica strains can make me quite tranquil, and this is a treat I'll be keeping around indi-case I'm having trouble sleeping. Though there were some lingering feelings of floatation in the morning, I did not feel groggy or weighed down any longer, and was ready to enjoy a day full of tabletop gaming.
After breakfast I enjoyed the pineapple hybrid gummy, and got to work oranging things for the upcoming games. Since THC is fat soluble, edibles work better when there is fat present in the stomach at the same time. I always try to squeeze the most out of infused foods, and pearing the fruit flavor with a savory sausage charcuterie was a sup-herb start to Sunday. I found the hybrid flavors uplifting and relaxing, and enjoyed the watermelon hybrid gummy the next day melon-gside a similar breakfast. I found that with both flavors I was able to focus throughout the day while feeling grape.
Speaking of grapes, the final flavor was the 4:1 Nitenite Grape gummy, which contains a ratio of 40 Mg CBD, 10 Mg THC, and 5 Mg of melatonin to ensure a state of concord throughout the night. I was wary at first due to the melatonin content, a past experience with melatonin on its ownin (sorry) kept me awake the whole night. I've since learned larger doses of the drowsiness-inducing hormone can cause a person to stay awake, and a 5 Mg dose is usually more effective than larger doses. I was plum delighted with how sleepy I became over the next two hours, and once again fell asleep in the living room. Though my legs were jelly when I jogged back to bed, I did not feel like jam the next morning, and felt restored after a berry sound sleep.
Each of the different cannabis-infused gummies worked great for someone that requires a higher THC dosage like myself, and being able to buy them individually is soy-tenly ideal when you like a variety of flavors. Zen Cannabis also offers a bag with 250 Mg total THC, split between twenty-five 10 Mg gummies of assorted flavors for those wishing to stock up on produce. If you've been keeping your eyes peeled, I've bean doing my best to mix up this post with puns more cherry-ble than before! Okay, I reused that last one, but leftovers aren't always bad. Lettuce see how many olive for you next week!