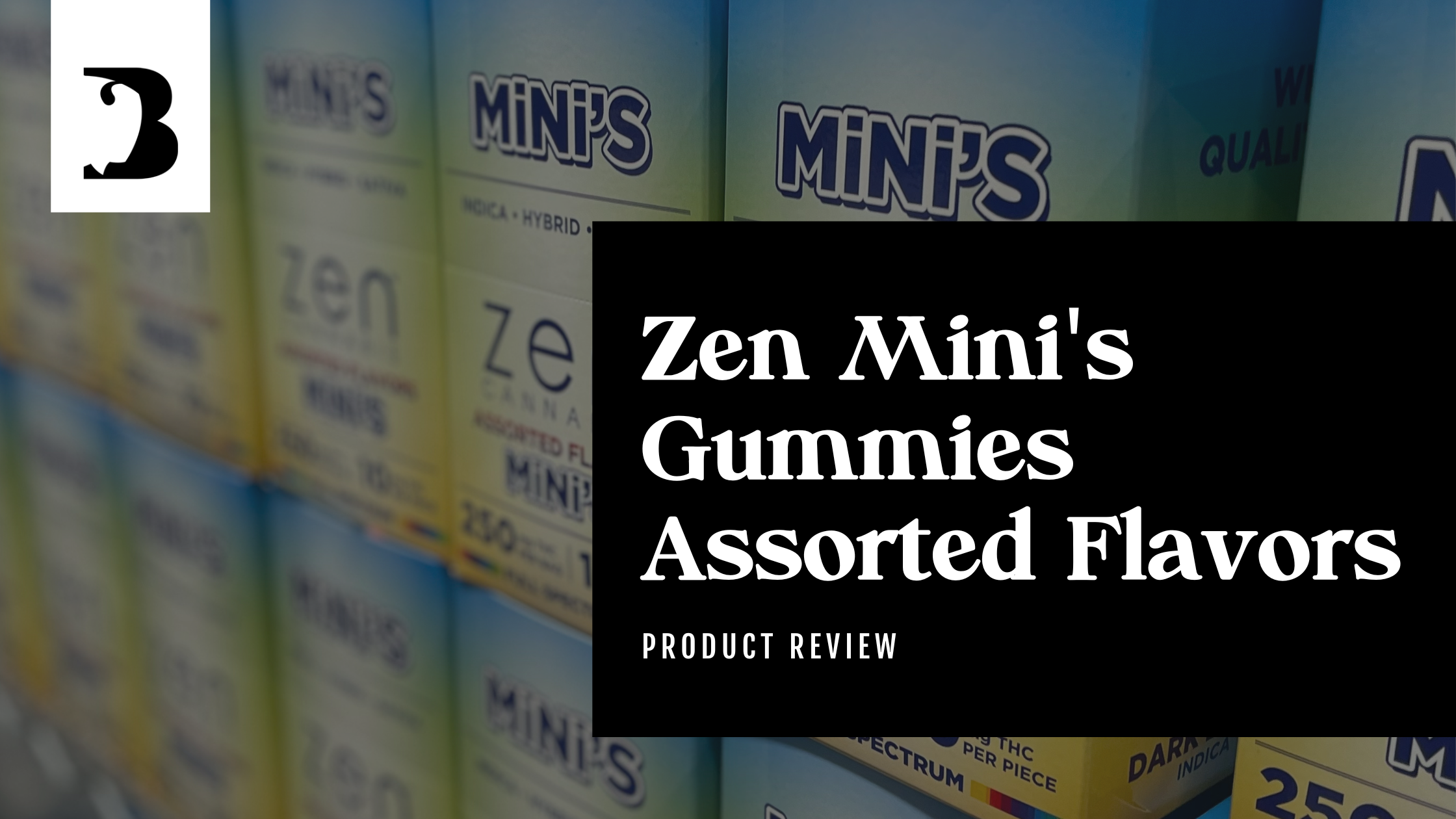 Encycloweedia Bricannabis is berry excited to tell you about Zen Cannabis Mini's, full spectrum gummies that are small but migh-THC! I normally don't like fruit salad, preferring to eat each fruit individually, but this is a mixture I couldn't say no to. There are five fruity flavors in each bag, and five gummies of each flavor, for a total of twenty-five amaZen fruit chews. Each gummy contains a 10 Mg dose of THC, making for a total contents of 250 Mg. Fruit punch and mango flavors are sativa gummies, pineapple and strawberry are hybrid, and indica is indicated by dark berry. Having an assorted mix of gummies in one bag certainly makes a trip to the closest dispensary quick, and the color differentiation of each flavor makes it easy to identify which type of candy you're about to consume. I've been known to forget a thing or two, but fortunately the back of the bag lists each flavor and its contents so there's no guesswork when it comes time to medicate. Be aware of how many you eat as too many of these minis that are fast acting will guarantee you're not!
Zen Cannabis gummies full spectrum, and since I know I enjoy the 50 Mg singles I had a grape feeling about trying the mini different flavors in this bag. I have noticed that full spectrum edibles work for me in lower doses than distillate edibles. This is due to the gentler extraction method used to preserve as much of the cannabis plant as possible used in crafting full spectrum THC infused edibles. Full spectrum gummies will contain more naturally occurring cannabinoids, terpenes, and flavonoids found in the marijuana plant than distillate based snacks. Distillate edibles can have any compounds lost in extraction reintroduced, but full spectrum already has these elements working together to create an experience more similar to consuming the plant itself. This is how manufacturers are able to produce strain specific edibles or edibles that lean a certain way on the sativa/indica scale.
Zen Mini's flavors are fantastically full of fruitiness that masks any trace of marijuana, or as I like to say, full of frui-THC flavor! While I don't mind tasting my medicine, delicious snacks are always a delight. Fruit punch and pineapple are also available in single gummies in a higher dose. The dark red fruit punch reminds me of sipping juice pouches as a kid, while the bright yellow pineapple tastes fineapple. I wish the mango flavor was available on its own. I loved it so much, orange you glad I'm here to let you know how tasty it is? Strawberry was a light pink tinted gummy and it possessed the sweet juiciness of a plump strawberry. Finally, the purple dark berry flavor of the indica gummies was something like a cherry and blackberry fusion. Over the course of the week I mixed different flavors for different effects, although I ate all the indica gummies one night before bed. The night I devoured the dark berry gummies was spent snugly in my sheets, and I did not wake up until just before my alarm the next morning. Eating different doses and mixtures of the sativa and hybrid flavors created wonderful uplifting and relaxed effects that didn't have me yawning throughout the day. I don't have a mixed bag of feelings over this mixed bag of gummies, and loved each one. I just wish I had more of Zen to eat!
Joking and Toking:
How does a smart person decide how many edibles to eat?
They chews wisely.