Bison Cherry Limeade Badder Concentrate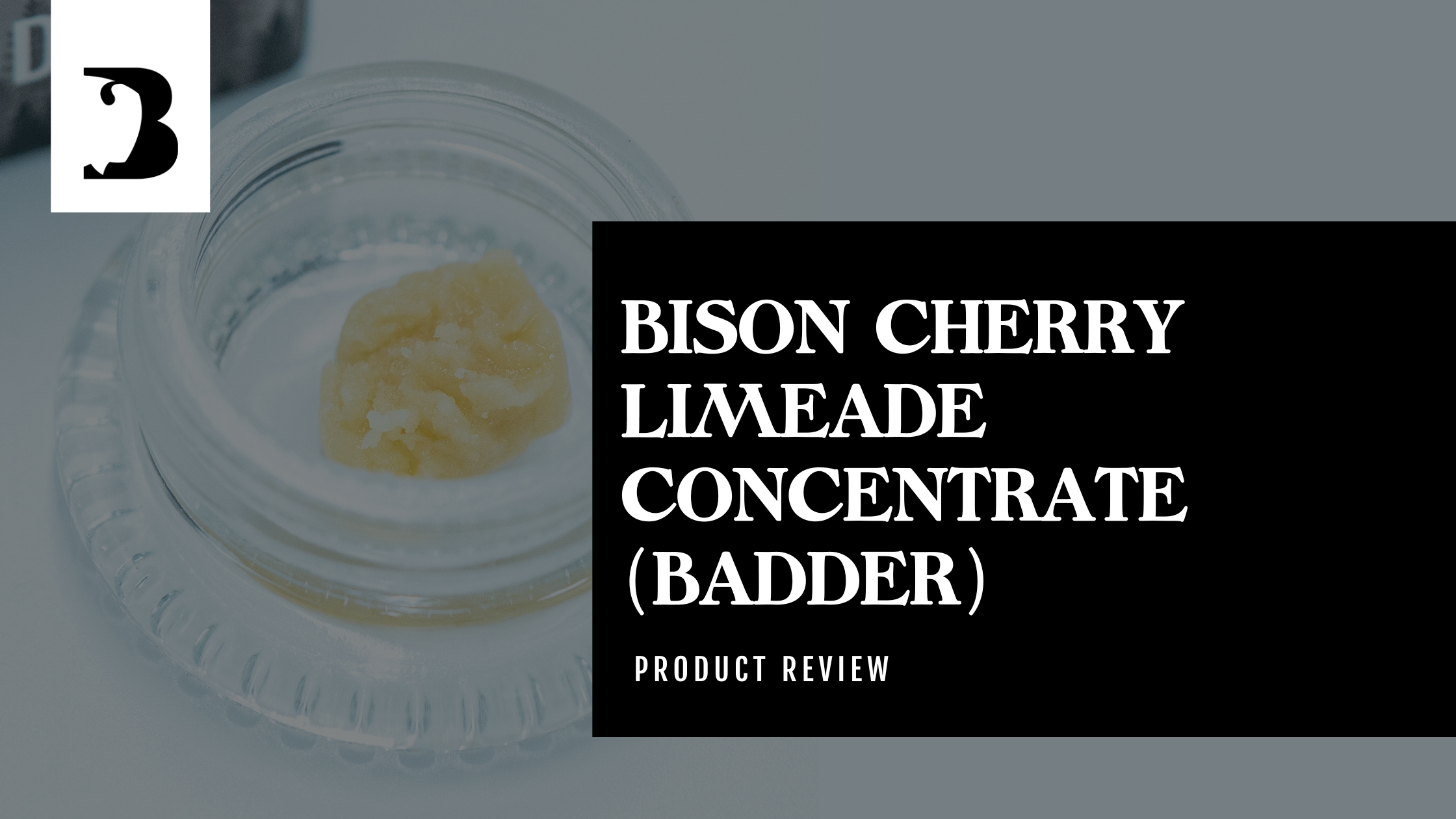 Encycloweedia Bricannabis was contemplating concentration this week with Cherry Limeade badder from Bison. When the first warm days of the year arrive I crave cherry limeades, and when I saw Bison's concentrate you badder believe I wanted a taste! Cherry Limeade is a balanced hybrid bred from Black Lime Reserve and Cherry Pie cannabis strains, and this batch of concentrate was weighing in at over 77% THC potency. While cannabis flower often falls under thirty percent THC, concentrates often range between 60-90% THC! Cannabis concentrate comes in many forms that vary in viscosity, texture, malleability, and color. Many who smoke concentrates have their own preference between badders, shatters, sauces, crumbles, and the other forms concentrate can take. I prefer badders, budders, and sugars for the ease of scooping it onto my dab tool, but I dabble with the other types as well. Join me as I weedflect on this delicious cultivar concentration.
The first thing I noticed about Bison's Cherry Limeade concentrate was the smell. A burst of lime tickled my nose and ended with a more fruity finish, and the scent's similarity to the beverage namesake was spot on! This badder was a light yellow-white color that easily broke apart. The badder was on the drier side, but not quite dry enough to be a crumble. With a consistency like that of cookie dough it could be shaped or smashed into the perfect sized dab with ease. Smoking higher potency products leads to a much higher tolerance so I only break out the dab rig a few days a week to keep my tolerance at a comfortable level. As I exhaled a large cloud of smoke the citrus flavor lingered and I felt my mood lift immediately. The smoke was smooth, and I was able to keep coughing to a minimum despite dabs always doing their best to make me hack up a lung. My limbs felt it first, but soon my whole body was relaxed and my smile wouldn't go away as my head bobbed to the muse-ic. Limeade myself a second scoop a few minutes later and sat down ponder couch to relax. Not long after I had fallen asleep. The sleepiness snuck up on me that evening, but had more to do with the time of day than anything. As I dabliberated whether or not to sip on Cherry Limeade in the morning, I ultimately decided to enjoy another taste after breakfast. Though the early smoke made for a cherry relaxed morning, I didn't need to sleep on it that day, and ripped several more dabs as the day continued. Overall, Cherry Limeade badder from Bison was great anytime of day I needed relaxation or my spirits lifted.
Joking and Toking:
Fred Flintstoner was one of the best known prehistoric cannabis connoisseurs. Best known for his catchphrase, "Yeah a dab will do!"