Bison Gelato Vape Cartridge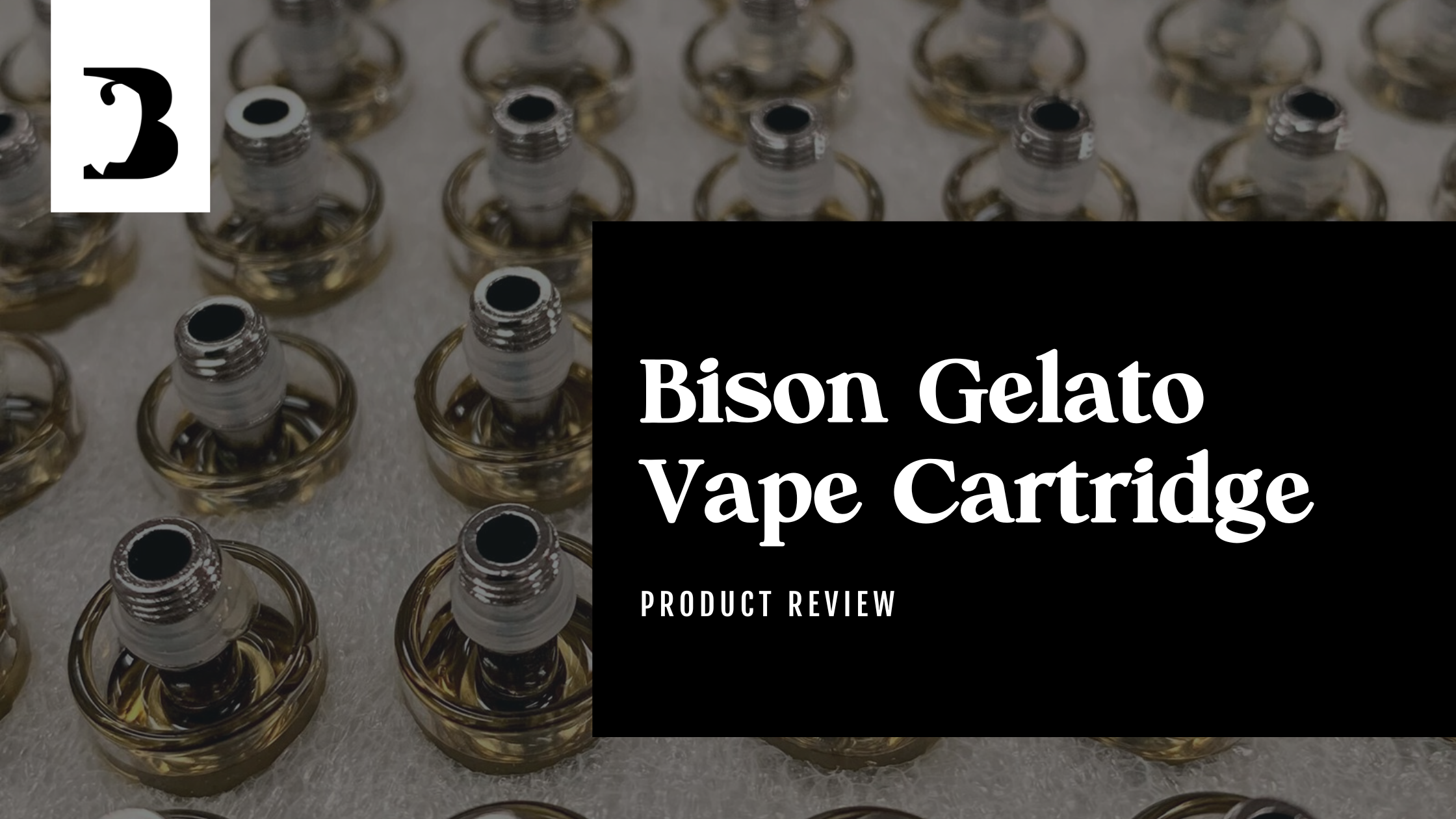 Encycloweedia Bricannabis here to tell you a lato about the Bison Gelato vape cart! Gelato has many variations, but this sweet strain stems from parents Sunset Sherbet and Thin Mint Girl Scout Cookies. Gelato has also gone by the name "Larry Bird," and the scoop on why is that the 33rd cultivar phenotype was chosen as the official Gelato strain. The Gelato cannabis strain is an equally balanced hybrid, and is the strain I smoked the most during the 2020 year. Gelato has always left me feeling relaxed and never hits so heavy I melt like a frozen dessert in the desert, and so I thought I'd give this vape cart confection a thorough inspection.
An evenly amber-hued distillate filled most of the container. With a freshly charged battery I ripped a large cloud from the cart and was surprised at the sweet, creamy flavor I experienced on exhale. While I'd expected a cream flavored smoke, I'd not anticipated how sweed this cart would taste, and had to have another sip. I actually exclaimed out loud how delicious I found the cart! Tropical fruit that seemed to be somewhere between pineapple and mango mixed with a creamy flavor. As I enjoyed the taste and smoothness of the smoke I cone-templated the things I needed to get done around the house to prepare for winter. Before long I was going down my mental checklist and establishing my order of operations. My muscles were relaxed as I slightly sank into my couch, and I didn't experience any anxiety over the growing list of things I had to do. Like the flower of the strain itself, Bison's Gelato cart stimulated my brain while chilling out my body. 
When I'm looking for a smoke that'll relax me throughout the day without slowing me down, it's a sherbet I'm reaching for Gelato. Myrcene, limonene, and caryophyllene are often the dominant terpenes in Gelato, with humulene and linalool also appearing in measurable amounts. I found Bison's cart very comparable to smoking Gelato flower itself, but the vape pen was a more tasty experience that didn't leave me smelling like cannabis. While I do love it on a day off, Gelato keeps me chill when I'm on the gela-go, and while it's not in my top ten favorite strains it is definitely in the top twenty. 
Joking and Toking:
If I drop my Gelato ice cream about it!