Zen 500mg Strawberries & Cream Chocolate Bar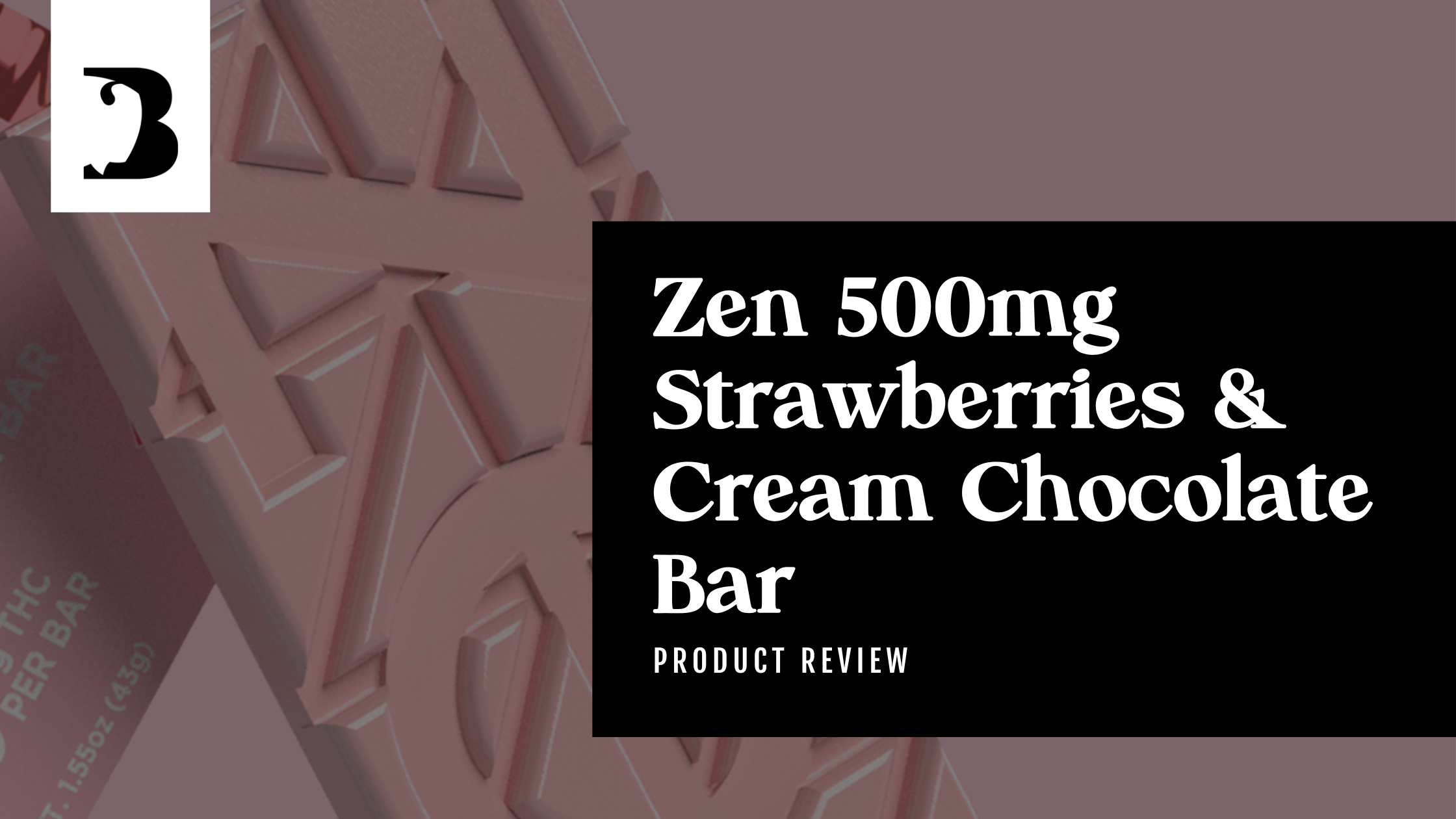 BLURB: "With no weedson not to get the most potent piece of candy, I picked the Zen Strawberries and Cream 500 Mg white chocolate bar. As the chocolate melted in my mouth I hummed with delight, and by the end of the night I'd eaten the entire edible. Even the next morning I felt like I floated on a strawberry breeze."


Encycloweedia Bricannabis here with a choco-lot of information on the edible I had over the weekend. When it comes to THC potency, I picked the plumpest berry on the bush with a Zen Cannabis Strawberries and Cream 500 Mg white chocolate bar. Having had the 250 Mg version of this flavor, I couldn't wait to sink my teeth into the more potent version. However, I did delay until after lunch, a BLT burger with added jalapenos, so my stomach had plenty of fat to help break down all the THC that would follow. Comparing nutritional information labels revealed the only difference between the 500 and 250 Mg chocolates was the amount of THC present. With the same amount of calories and sugar there was no weedson not to pick the most potent piece of candy.

As I finished my burger I started with 100 Mg of the chocolate, and by the end of the night I'd eaten the entire edible. Each bar of chocolate breaks down into bite size squares containing 50 Mg of THC each, and the squares can break down further into triangles, halving the dose again. Edibles affect everyone differently, and there are many factors that can attribute to each experience. Starting with smaller amounts of edibles is the best way to gauge your personal tolerance level. Wait to see how things feel before eating more. Edibles can sometimes take a couple of hours to really kick in, though that hasn't been my experience with Zen edibles. As the chocolate melted in my mouth I hummed with delight. I usually prefer dark to white chocolate, but the added strawberry flavor in this ama-Zen edible makes for one delicious way to medicate. 
Within half an hour I felt the familiar floating feeling edibles induce in me. I was physically relaxed, but still able to accomplish some yard work before dinner.  After dining I decided another 200 Mg would work for dessert. It wasn't long before I was ready to lay down on the couch and put on a movie. The THC of the chocolate converting to 11-Hydroxy-THC inside my body was fully in effect, and I knew I was not long for the waking world. As I selected a film to watch I chuckled and gleefully devoured the remaining 200 Mg, knowing I'd sleep throughout the night, but unsure I'd make it to the bed from the couch. Fortunately for my back I did wake up in the night and migrate to the bedroom, feeling like I was floating on a strawberry breeze. When I awoke in the morning I could not help but smile as I stretched. Energized from my sound sleep and still floating on the strawberry breeze knowing my day would be as great as I felt.
Joking and Toking:
What's the difference between a recreational and medical marijuana edible?
If you had a recreational edible, you ate it.
If you had a medical edible, you medic-ate it!