Bison Burmese Mimosa Disposable Live Sauce Vape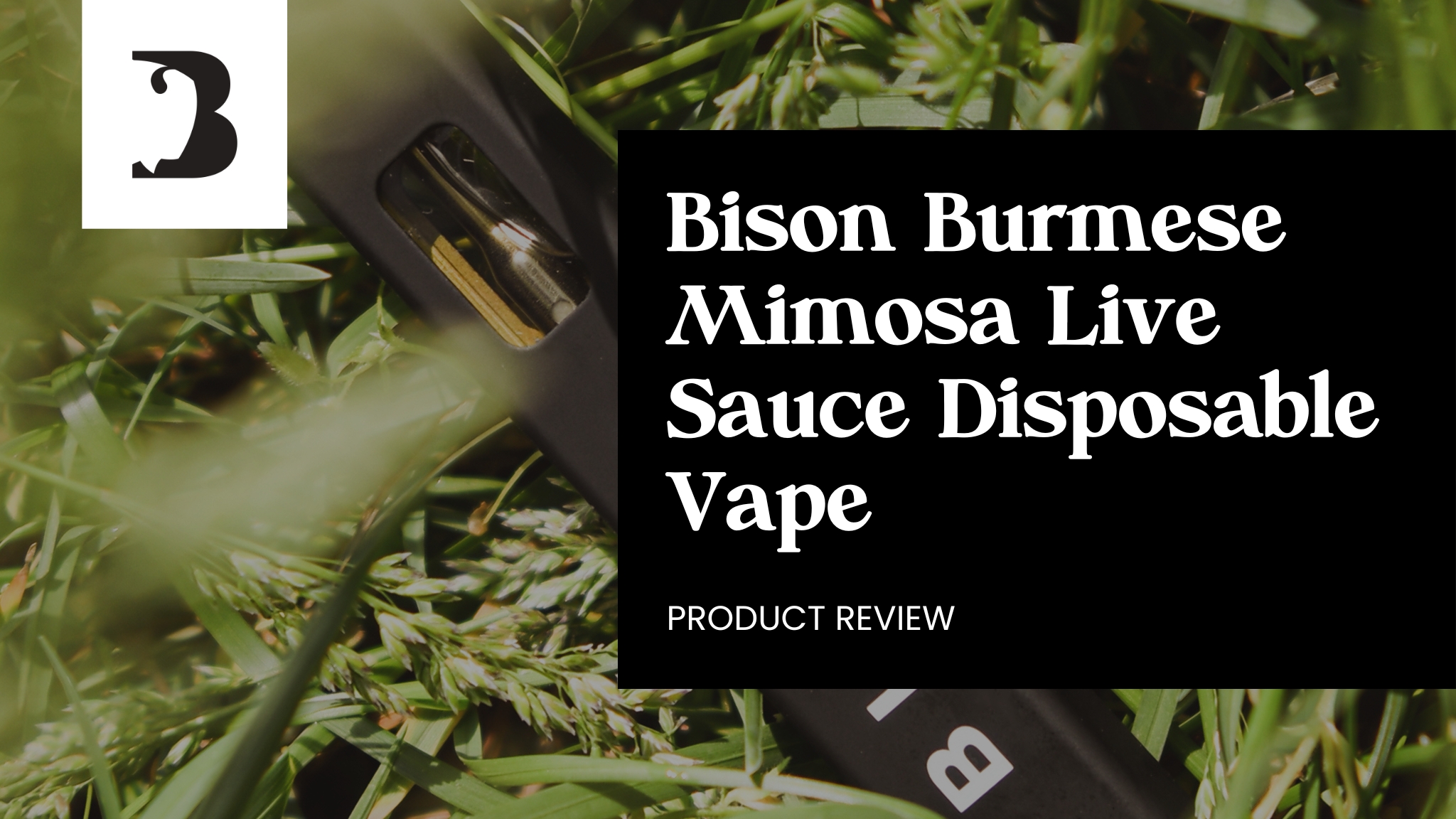 Encycloweedia Bricannabis is stoked to weedview Bison's Burmese Mimosa live sauce disposable vape. Burmese Mimosa is a sativa dominant hybrid strain bred from Rosè Mimosa and Orange Burmese. When it comes to vapes, whether it's a disposable battery or a cart on its own, I prefer live products to distillates. I've found that while distillate still takes me where I want to be, live sauces and resins keep mimosa-tisfactorily taken care of for a longer duration. Live sauce carts are made with flower frozen at harvest and contain all the cannabinoids and terpenes naturally present in the cannabis plant. When I saw Bison's Burmese Mimosa pen hitting over 74% THC and almost 5% terpenes I knew I had to toke a closer look!
The pen itself looked sleek with a slim, simple design. White with black lettering the battery held a half gram of sauce and could be weedcharged with a micro-USB cable. While some live carts hit hard causing coughing, I found Burmese Mimosa to be a smooth smoke that tasted of burnt oranges. The pen did become slightly harder to draw on after puffing on it throughout the week, but never clogged up or spit sauce. I also didn't need to charge the battery after over a week of use. While some days I hit the vape as little as four or five times, other days I was ripping it a brunch as my only source of THC. 
While Myrcene was the most dominant terpene, Terpinolene, Limonene, and Beta-Caryophyllene appeared in higher concentrations as well. This mixterp explains the citrus flavor and body relaxation I experienced without an accompanying tiredness. I could still feel the effects of a smoke session two hours after hitting the pen, but wasn't slowed by the stoniness. I loved the pen for times I wanted to be active or awake like during the workday or while gaming. My brain was alert and jokes flowed freely while enjoying Burmese Mimosa. Throughout my experience with the disposable pen I felt physically relaxed but mentally focused. Orange you glad I shared my findings?
Joking and Toking:
I'm keeping my eyes peeled to see who wins the Mimosa Making Champagneship!