Bison White Poison Pre-Roll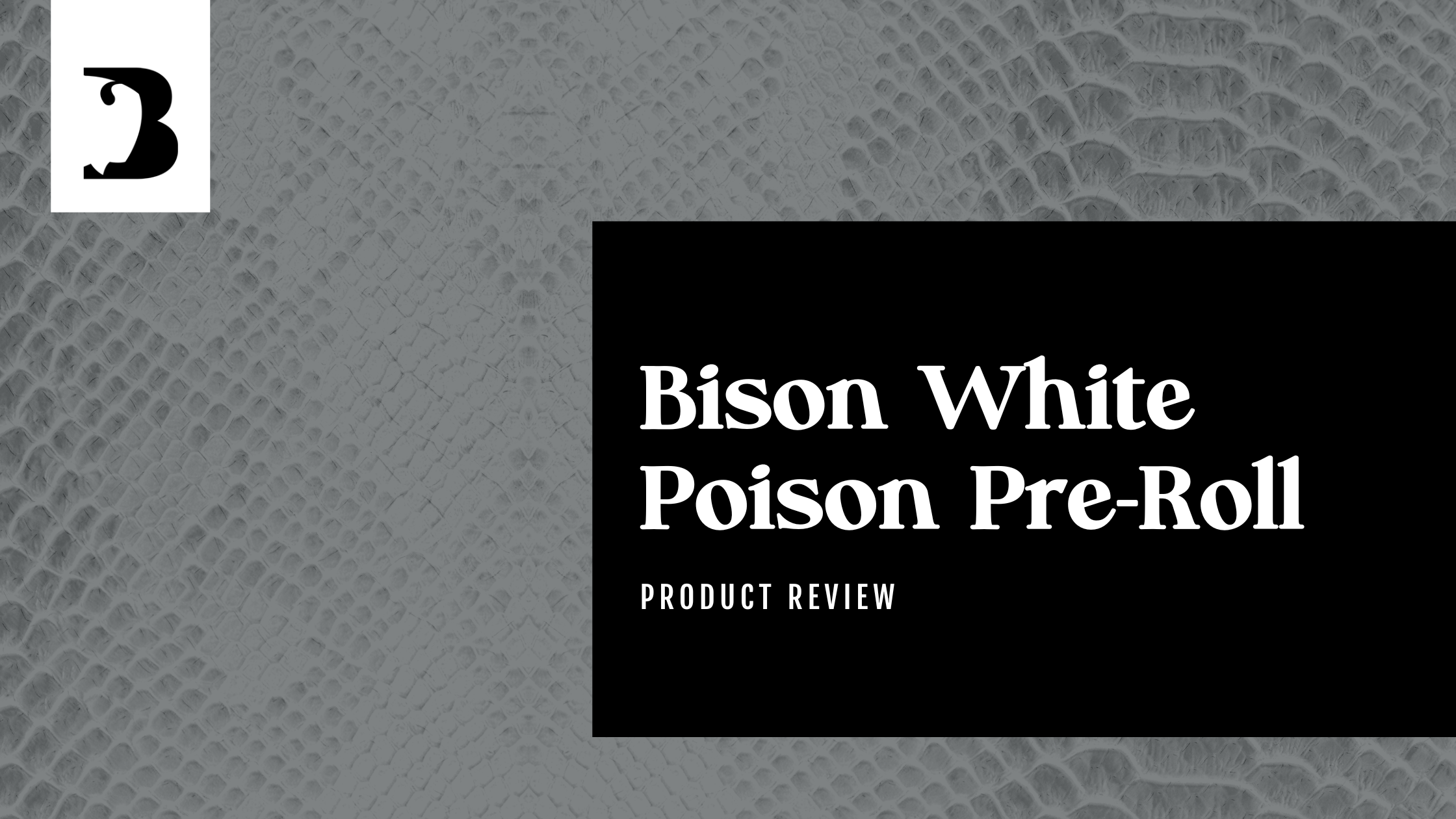 Hair we go again with another Encycloweedia Bricannabis review. This week we're rocking out with the White Poison marijuana strain, a most excellent blend of Durban Poison and The White cannabis cultivars. Besides a name that instantly makes me think of eighties hair bands, this heavy sativa strain made me want to "Rock and Roll All Nite." Preparing for my BBQ meant I couldn't spend all day indi-couch so I grabbed a Bison White Poison preroll by the horns before "Coming Home" to do work around the house. I smoked half of Bison's White Poison 1g pre-roll at a time, feeling an energy that would really "Kickstart My Heart" and help me get the yard ready for the Mötley Crüe I expected that weekend. There wasn't a need to "Finish What Ya Started" in one go with this high potency pre-roll that topped the charts at 23% THC, as I was amped up by the time half of it was smoked. Testing my metal with this post's music references, and sense-it's-me-uh you know there will be a healthy dose of bad jokes. Let's Ozzy how many references I can make, but "I Don't Know," it's a "Shot in the Dark" keeping the information easy to weed out.
As a fan of the sour flavor of Durban Poison and the energizing effects of The White, I found White Poison to be the perfect combination. A taste of sour citrus and an herbaceous pine mixture paired with an energy level as high as my spirits. Fortunately, I had a lot of different things to do "Round and Round" the house because it was hard to focus on just one thing at a time. I had a lot of fun Danzig around the house and yard while getting things "Ready to Rock," and discovered White Poison is a sativa strain best saved for when you can "Turn Up the Radio" and don't need nothin' but a good time. I felt "Time Stand Still" as the Rush of energy helped me clean the entire house and pick up fallen debris from "The Trees." I did my best "Tom Sawyer" impression and told my friends how much fun I was having in an effort to reduce the amount I was "Working Man," but didn't want anyone to feel "Force Ten" to helping me. There was also a creative Hurricane of highdeas whirling around in my brain, and I didn't have time to write down all the fun things I was coming up with.
The terpene profile of White Poison is headlined by pinene, limonene, and myrcene which explains the highly energetic but not quite "Crazy Train" feeling it gave T-H-Me. Limoneed you to let me stretch the puns a bit, I've been pinene to get them out for a while. While my experience with the White Poison marijuana strain was fun and energetic, others have reported it great for focusing and relief. I suspect the varying levels and ratio of myrcene to the other present terpenes has a large effect on whether a session would leave me feeling one way or the other.   I'll confess that I'm showing you some myrcene from the usual amount of puns, but there are plenty of "Big Guns" up my T-H-Sleeve for future posts. 
Joking and Toking:
What do you call a boulder that smokes his own hand-crafted joints?
A Rolling Stone!